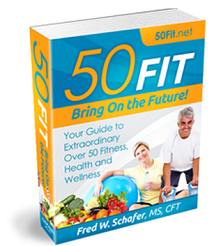 Hi Freind and welcome!
Below you'll find our complete review of the 50FIT System by Fred W. Schafer.
As always, we will begin with an overview of the 50FIT program, continue with explanations regarding its main benefits and drawbacks, and in the final section summarize everything which we think can assist you to decide if Fred W. Schafer's fitness program is really the best choice for you.
For any question about our review or about the 50FIT system itself, feel free to get in touch and we'll try to help…
Now, let's begin 🙂

General Overview Of The 50FIT Program
Quick Summary
Name: 50FIT

Creator: Fred W. Schafer

Format: downloadable guides

Refund Guarantee: 60 days

Official Site: fitover50training.com
Our Overall Rating: 4.3/5
If you want to be sure that you are able to get the most out of your health and fitness goals, there are a number of steps that you can take in order to do that.
Many people like going to the gym, but if the gym is not your cup of tea, there are some wonderful home workout programs that you can take advantage of.
However, the problem with most of these programs is that they usually focus on people in their 20's and 30's only, and they are not designed for older people.
Fred W. Schafer, a 57-year old nutritionist, certified fitness trainer, and a famous motivational speaker, explains that this is exactly the reason he created the 50FIT System.
This fitness program, which is also known as the "Fit Over 50 Training" was created especially for people who are not used to heavy workouts and are over the age of 50.
Fred W. Schafer says that the specific exercise movements and nutrition advice in his program will help people in this age group to make the most of their fitness and health goals, giving them the opportunity to get into great shape and prevent themselves from living a stationary life that is filled with health problems.
What Is Included In The 50FIT Program?
The 50FIT System includes 4 main guides, and listed below is a short description of each one of them:
The "Welcome to 50Fit Guide"

This guide offers an introductory overview of the 50FIT program and explains everything you should know about this system, how it works, and what to expect when following it.
The "50FIT Movement Manual"
In this 50-page manual you will find easy to follow exercise movements with step-by-step instructions and useful pictures of Fred W. Schafer himself performing the exercises.
Fred explains that these movements were chosen very carefully to meet the specific needs of men and women over 50.
The "50FIT 28 Day Better Body Book"
This guide describes the main exercises that the 50FIT system is based on, and explains how you can transform your body in just around 4 weeks by taking advantage of these functional metabolic workouts.
The "50FIT No Nonsense Nutrition Method"
As the name implies, here you will find a no-nonsense nutrition plan that is easy to follow and can be incorporated into the schedule of almost any person, no matter how busy he or she may be.
It is also important to mention that Fred W. Schafer offers additional bonus items in his 50FIT system, including the "Stop The Stress" manual and "Fred's Famous Five Minute Fortifiers" guide…

The Main Pros And Cons Of "50FIT"
The Things We Liked
Get Real Results In Less Than A Month's Time
The 50FIT program was designed to help you start seeing results fast, and Fred W. Schafer promises that you will be able to lose about 10 pounds of body fat in less than a month by following his exact directions.
Based on our research online, it seems that many people do get this kind of results in the first month.
You Can Take Advantage Of This System For Your Entire Life
Since this program is set up for people who are over the age of 50, it is strenuous enough to give you a workout, while easy enough to not put too much wear and tear on your body.
Because of that, you can pretty easily incorporate the 50FIT system into your daily lifestyle and to take advantage of this program for your entire life.
Can Help You Prevent Some Potentially Serious Health Problems
As you age, you become more susceptible to a number of health issues. These include obesity, elevated blood pressure, elevated blood sugar, heart disease, metabolic syndrome and many more.
The good news is that the 50FIT system was designed not only to help you lose weight, but also to improve your overall health and prevent such conditions.
No Expensive Equipment Or Gym Memberships Are Required
Let's face it, the gym can be an intimidating place if you are not used to it, and the yearly cost can be expensive as well.
Another advantage of the 50FIT system is that it does not require you to sign up for an expensive membership or get your hands on any special equipment. There are plenty of bodyweight exercises that Fred W. Schafer describes which can help you lose weight and gain muscle, even if you do not have any equipment at home.
60-Day Money Back Guarantee
Fred W. Schafer provides a 60-day money back guarantee for his Fit Over 50 Training system, and promises that if for any reason you don't love it, you can ask for a full refund during this period.
Considering that the 50FIT system promises noticeable results in just around four weeks, we believe that this is a fair guarantee…
Potential Drawbacks
This May Not Scratch The Itch You Are Looking For If You Would Rather Be In The Gym
If you are looking for a workout program that will teach you more about gym equipment and how to maximize your muscle-building efforts, the 50FIT program is likely not what you are looking for.
As explained before, this system was designed for ordinary people who are over 50 years old and have some reasonable weight loss goals, as opposed to people who are already at their ideal weight and looking for ways to maintain their fitness level.
In other words, if you are a person that likes to go to the gym, ride bicycles every day, run marathons, swim a lot, etc. you may not be a huge fan of the Fit Over 50 Training Program.
The Workouts May Not Be A Challenge For You If You Are Already A Workout Buff
Likewise, the actual workouts themselves might not push you if you are already in peak physical shape. We can easily see why some people might be bored with these workouts if they are used to doing a large number of push-ups, sit ups and other forms of resistance exercises.
Only Digital Copy
All the manuals that are offered as part of the 50FIT system, come in a PDF format which can be viewed on your PC, Mac, tablet, Smartphone and other gadgets.
Unfortunately, a hard-copy edition of this program is not available for sale yet…

Conclusions And Final Thoughts
Overall, "50FIT" is a unique program that targets a specific group of people which usually can't follow the "mainstream" weight loss and fitness programs offered online.
Fred W. Schafer believes that just because you are over the age of 50 does not mean that you can't move your body and take great care of your health, and this is exactly what he tries to teach in his program.
While this fitness program has its cons, and it is absolutely not the best choice for young people, there is no doubt that ordinary men and women over 50 years old who try to find ways to cut down the pounds while toning their body will find this program ideal for them.
Moreover, considering the 60-day refund guarantee that Fred W. Schafer, we believe that it can be a good idea to take the 50FIT system on a test drive for around 4-5 weeks and to see how it goes.
If for any reason you feel that you gain nothing from this fitness program, then simply email Fred and ask him for a full refund…