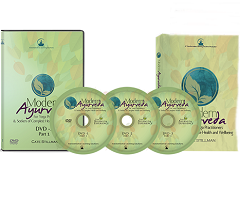 Hello friend and welcome!
Below you will find our full review of the Modern Ayurveda program by Cate Stillman.
As always, we will start out with a general overview of the Modern Ayurveda course, continue with information about its main pros & cons, and in the last sentences summarize everything you should remember about Cate Stillman's ayurveda program when making your final decision…
Let's start 🙂

General Overview Of The Modern Ayurveda Program
Quick Summary
Name: Modern Ayurveda
Creator: Cate Stillman
Format: Downloadable and physical

Refund Guarantee: 60 days refund policy
Official Site: theayurvedaexperience.com
Our Overall Rating: 4.8/5
Created by Cate Stillman, a yoga teacher, Ayurvedic Medicine Practitioner, and the Worldwide Association of Yoga Health Coaches founder, the Modern Ayurveda is a 3-part course for yoga practitioners and individuals who want to improve their health and wellbeing.
Here are a few things you'll discover in this course:
Part 1
1.) Introduction
How energy work and its role in auto-immune disorders
Understanding inter-generational wellness, polarity, and various rites of passages of life
2.) All about Energy
Energy flow and chakras
The 3 doshas: Vata, Kapha, and Pitta
How to spot imbalances through the different zones of the face and what they mean
Your personality and weight deposition location
3.) The Daily Rhythms
An explanation on the natural tendencies of people to eat at certain times
The 3 doshas and how they work through the daily patterns
How eating, sleeping and waking at the right times could help the body function better
4.) Understanding the Habits of Yogis
Tantra teaching on the 3 energies or gunas
How to select and shape your habits
5.) The Koshas (5 layers of the human being)
An introduction of the koshas, including the needs of each layer
How to "feed" each of these layers and the best habits to follow to align with each
6.) Concept of Pakruti (constitution of a person) and Vikruti (state of disease)
Part 2
1.) Life Stages and Passage Rites
How upsurge of doshas or imbalances generates plenty of negativity
The importance of undergoing the rites of passage
Understanding shift of identity, conscious conception, and ritualistic deaths
2.) Diet of Yogis
Types of foods that contain more life-force
How to preserve food naturally
Proper food preparation
3.) About Elders and Children
Eliminating mood problems
The top 3 areas to look for imbalances
How to decipher the signs and symptoms involving your skin, lungs, and guts
4.) Taking Ayurveda to the Mat
Different routines you should do if you live a sedentary lifestyle, gained weight, lack focus and power, and always go to different places
How to approach yoga and exercise
5.) Practicing Yoga and Energy
Valuable tips for your yoga practice
Understanding the upward and downward energy flow
6.) Healing Oneself
A crucial link that could cause auto-immune diseases
Information on a healing diet
How to grow deeper and more natural energy levels through specific practices
Part 3
1.) The first part discussion on health based on an Ayurvedic viewpoint
2.) Understanding health (part 2) and causes of disease from an Ayurvedic viewpoint
3.) How to read your tongue to check for imbalances within your body
4.) A discussion on the 7 Chakras (Root Center, Sacral, Solar Plexus, Heart, Throat, Third Eye, and Crown)
5.) The importance of detoxification among yogis
6.) All about different beneficial spices (black pepper, cayenne, turmeric, etc.) and medicine
The Different Packages
Cate Stillman's Modern Ayurveda course is available in 3 packages: Silver Version (digital only), Gold Version (physical only), and Platinum Version (digital and physical). If you order the Gold Version and Platinum (Physical) Version, you'll get two free items: cotton yoga mat and a text version of this 8-hour video course…

The Main Pros And Cons Of The Modern Ayurveda Course

The Things We Liked
Authentic Yoga and Ayurvedic Practitioner
Cate Stillman seems to be legit. She has the necessary experience, knowledge, and certifications to make her qualified to offer this type of course. As claimed on the official website, she has been a community wellness teacher and Ayurvedic practitioner since 2001. She also founded several Yoga and Wellness websites, such as Yogahealer.com, a global association of yoga health coaches.
Another great thing about Cate is she's active on social media. She constantly updates her Twitter (@catestillman) and Facebook (Yogahealer) accounts. You might want to visit her social media accounts, so you can have an idea on what types of things she teaches.
Understandable and Enjoyable
Cate Stillman has a knack for breaking down complex topics to make them comprehensible for all people, regardless of their knowledge about yoga or Ayurveda. She gives clear explanations and doable tips to help you apply Ayurveda into your everyday life.
On the video found on the official website, you'll have a great idea on how she speaks and explains. She's calm, straightforward, warm, and humorous. We think most people will definitely enjoy her Modern Ayurveda course.
A Practical Option
There's nothing wrong with going to actual classes. The problem is that it might not be a great option if you have a hectic schedule or are experiencing financial constraints. With the Modern Ayurveda program, you can learn everything at your own pace and time.
If you really doubt it's the affordable option, just calculate the total cost of going to in-person classes. In addition, don't forget to take into consideration the time you waste on traveling to and from classes.
Freebies and Introductory Discount
You're not just going to receive detailed and interesting information, but you'll also get a special 50% introductory discount and a free text companion book and cotton mat. The only catch is Cate Stillman is offering the huge discount and freebies for a limited time only. But even if there are no freebies or discount, the price of the Modern Ayurveda course is still very affordable in our opinion.
60 Days Money-Back Guarantee
Cate Stillman has made the decision of trying her course a bit easier for you by giving you the freedom to try the Modern Ayurveda program for two months, and then ask for a full refund if you're not happy with it for whatever reason.
This is a very generous offer that makes this course a risk-free option…
Potential Drawbacks
Time-limited Discount and Freebie Offers
Modern Ayurveda is a new course from Cate Stillman. From the last time we checked, the introductory discount and free cotton yoga mat are available for a limited time only.
Discipline and Dedication Required
Since you don't have an actual coach to supervise you, you won't have anyone to correct and motivate you. The good thing is you can always remedy this by getting others to participate, so you can have accountability buddies.
Not for Everyone
The Modern Ayurveda program is not for skeptics, the lazies, and people with special health considerations. You might be skeptical that you can be actively involved in your healing process or whether the ancient wisdom lessons Cate Stillman teaches have a practical application in your life or not.
If you do plan to purchase this course, you must keep an open mind…

Conclusions And Final Thoughts
Overall, we believe the Modern Ayurveda course by Cate Stillman is a great option for everyone, whether they're a newbie or a seasoned practitioner of Ayurveda and/or yoga. We're sure you'll pick valuable tips and lessons from this course.
We must admit that Cate Stillman seems to be the real thing. The many testimonials online seem to come from real clients, and Cate herself has many followers on Facebook and Twitter.
Honestly, it's quite hard to find downsides to this course. It might be a bit pricey, but if you check around, the price is actually within the reasonable range.
We guess that the only way to know if it's worth it is to purchase the course and apply it in your daily life. The good news is that if for some reason you don't find the Modern Ayurveda program helpful for you, a full refund is just a few clicks away…
Well, that's everything for this review of Cate Stillman's Modern Ayurveda course. We hope this helps and wish you good health and wellness 🙂