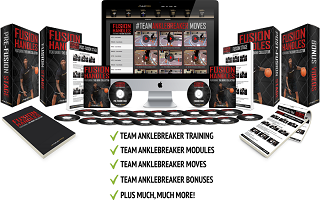 Posted By Dan Beck
Hey buddy and welcome!
Below you'll find my complete review of the Fusion Handles training system by Adam Folker and Larry 'The Bone Collector' Williams.
I will begin with a general overview of the Fusion Handles program, continue with detailed explanations regarding its main advantages & disadvantages, and in the last sentences summarize everything which I think will help you decide if this training course is really the right option for you or not…
Let's begin 🙂

General Overview Of The Fusion Handles Program
Quick Summary
Name: Fusion Handles
Creators: Adam Folker & Larry Williams
Format: Video-based training course

Refund Guarantee: 60 days refund policy
Official Site: fusionhandles.com
Our Overall Rating: 4.7/5
Dribbling is a difficult skill to master. It looks flash when you do it well, but it's tricky to practice, and it's something that can be rather frustrating to learn. The best players can make fast switches and pass defenders with lightning speed, but how did they get that good?
Well, if you will ask the experts, most of them will tell you that the trick is to learn to practice smart. In simple words, that's what the Fusion Handles system promises to help you do…
What Is Fusion Handles?
"Fusion Handles" is a training system that was created by Adam Folker and Larry 'The Bone Collector' Williams to help people train handles in a sensible, smart and time-efficient way.
The idea behind this system is that it will get you dribbling like a pro, making amazing crossovers, and moving in a way that will impress those D1 scouts and coaches – all without endless hours of boring, repetitive drilling.
Adam and Larry explain that a lot of people think that just dribbling over and over is all it takes to get good at handles. However, while there is absolutely some benefit to just 'practicing', dribbling is like anything else – if you are just randomly doing stuff, instead of focusing on a specific plan, then you will not make optimal progress.  To become a truly great ball handler, you need to drill sensibly.
Adam Folker says that this is exactly what the Fusion Handles system has to offer, and he promises that even if you are clumsy, slow, weak on one side, or just 'don't get it', you can become a good ball handler with this program.
To help you get these results, Adam Folker and Larry 'The Bone Collector' Williams offer a very comprehensive video-based training program for eight weeks that includes 12 different modules, as well as several bonus items.
The main goal of each module is to take you by the hand and show you step-by-step all you need to do in order to improve your game and be the player everyone talks about.
I won't provide specific details about each module of the program in this review because you can learn everything about the 12 modules and the bonus items on this page, however in order to help you understand better if the Fusion Handles basketball training system is really for you, I will cover in detail the various pros and cons which I have found about it…

The Main Pros And Cons Of "Fusion Handles"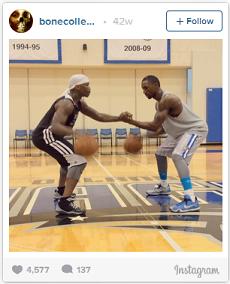 The Things We Liked
Trains More Than Motor Skills
One thing that a lot of people don't realize is that motor skills are just one part of what it takes to become a good ball handler. If you aren't working on the rest, then you'll never become more than just passably competent.
The Fusion Handles system trains your central nervous system as well as your hands, and also helps you to learn the footwork and misdirection – the things that let you cut up defenders, instead of looking like a lumbering fool with a ball.
Works Both Sides
Another great thing about the Fusion Handles system is that it works both sides. This means you don't have to worry about people thinking you're predictable because you have a weak left side. This training program will help you be fast, fluid and confident as you move through the court.
Involves Drills That Are Actually Fun
Instead of dreading practice because you will have to do a load of mindless drills that make you feel like you aren't getting anywhere (because, to be fair, you probably aren't), you will find that you start looking forward to practice.
I picked up this program for myself, but I ended up using it for some of the kids that I teach, and it's been amazing seeing how much more dedicated they are to training now. They don't mess around, and they don't stop drilling after just a few minutes.
They really enjoy each practice session because they're always doing something fresh – and when you're engaged and having fun, you learn.
Provides Rapid Results
The Fusion Handles system gives you 'ball on a string' control if you stick with it for long enough – and along the way you'll see rapid progress.
Most people I know find that after just a week of doing these new drills, they are clearly and obviously a better dribbler. They are more confident, their basics are better, they are able to pull off more plays, and they become a better guard and someone that no-one else wants to guard.
This program is something you could start now, and very soon be a far, far better player – earning a respected position on the team.
Even the first module – which covers hesitation and change of speed – will have a massive impact on how well you play.
Full Refund Promise
Adam Folker and Larry 'The Bone Collector' Williams offer a 60-day money back guarantee for their Fusion Handles basketball training system.
This means that if you are not satisfied with their program for any reason, you can simply ask for your money back.
In simple words, this guarantee makes the Fusion Handles system a risk-free option…
Potential Drawbacks
No Hands-on Teaching
"Fusion Handles" is a video-based training program. We personally think that it would be awesome if Adam and Larry would come out and do seminars occasionally, so you could get some hands-on tuition.
After all, learning from a video just isn't quite the same as getting someone to show you what you're doing wrong, so you can feel how to do it better.
A Short Program
As explained before, the Fusion Handles system is divided into a series of modules, and then a program that takes eight weeks to complete.
We believe that it would be nice to see an option to purchase some kind of "premium edition" of the program with more content for beyond the eight-week period.
That's not to say that the content there isn't great – or very advanced – it certainly is. However, not everyone is good at creating their own long-term training programs, and if you're a relative beginner you might need more guidance.
Even just some ongoing suggestions for using the existing drills and videos would be nice and handy.
No Option To Purchase A Physical Edition
Right now, Adam Folker and Larry Williams offer their Fusion Handles system only in digital format.
This means that you don't have the option to purchase a physical edition of the program that will be shipped to your home.
Depends on your personal preferences, this may also be a downside for you…

Conclusions And Final Thoughts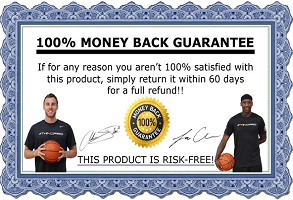 So, does the Fusion Handles System really work as promised?
Well, as with anything that involves learning physical skills, it's hard to say that what works for one person will work for another; however, I was certainly impressed with this system and not only it improved my handling and my movement, it also certainly did a lot for the way people perceive me on the court.
In general, I highly recommend this to any basketball player – whether they're just getting started on their journey, or trying out for a D1 team. I truly believe that everyone can pick something up from it – from body language and footwork, to tricks and sleight of hand.
In addition, coaches will probably find that there are a few drills here they've never seen before – drills that will engage their team and keep them motivated, as well as bring up the overall level of handling in the team.
All in all, when I take into account the very reasonable price tag and all the great modules offered in this program, I truly believe that it is well worth the time and money investment.
Moreover, considering that Adam Folker and Larry Williams also offer this training system with a complete money back guarantee for two months, I don't think that you have any risk here…
That's it guys. I hope that my review of the Fusion Handles system was helpful for you and answered most of your questions. Take care 🙂
Dan Beck

Other Interesting Stuff Regarding The Fusion Handles Program:
A two-minute YouTube video that contains some great moves of Larry Williams