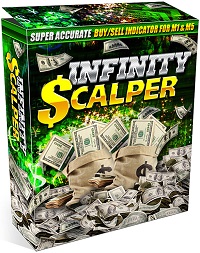 Hey friend and welcome!
Below you'll discover our full review of the Infinity Scalper by Karl Dittmann.
We will begin this review with a general overview of the Infinity Scalper indicator, continue with explanations about its pros and cons, and in the last sentences sum up everything which we believe you should know about this tool before making your final decision…
Let's start 🙂

General Overview Of The Infinity Scalper

Quick Summary
Name: Infinity Scalper
Creator: Karl Dittmann
Format: Online Platform

Refund Guarantee: 60 days refund policy
Official Site: infinityscalper.net
Our Overall Rating: 4.1/5
Created by Karl Dittmann, a known trading-system seller, the Infinity Scalper is a Forex trading tool that's equipped with premium features and the newest technology to cater all types of traders. It works on M1 and M5 time frames and all currency pairs.
Karl Dittmann says the reason people aren't successful with Forex trading is because they're not taking advantage of any tools. On the other hand, those who are earning big in Forex are using the best trading tools and resources.
In simple words, that's what the Infinity Scalper offers newbies and more experienced traders…
How does it work?
Once you pay for it, you'll have your own dashboard, where you can access all its premium features. As a predictor tool, it will tell you if the price might go up by showing a green bar. If it's going to dip, it will show you a red bar.
To make sure you don't miss a single trade, it has three kinds of signal alerts:
Push notification
Email
And pop-up message
Karl Dittmann makes it easy for newbies to use his Forex indicator tool by providing a comprehensive user manual. This manual contains useful tips on how to use the Infinity Scalper to maximize your profit for every trade.
More specifically, here are the things included in the Platinum Package of the Infinity Scalper:
Tactics handbook – This 28-page document covers everything you need to know about the patterns of this indicator tool, as well as powerful scalping strategies and a series of screenshots that show the best times to enter or exit the market.
Divergence pattern recognizer – This will help you identify divergence patterns, which you can use as your main indicators. You can identify these patterns when you compare the movement of an indicator and price action (the daily price fluctuation of an asset).
Pattern recognizer – This will spot candlestick patterns and notify you through email and on-screen alerts with sounds.
Additional tools and tips – Aside from the indicator tool, you'll also receive exclusive eBooks, tips, and real-time updates, so you can take full advantage of your profit level.
To sum it up, here is what you'll get:
The Infinity Scalper indicator tool
User Manual
Information about its trading algorithm
Added built-in features
Real-time trade examples
Email support

The Main Pros And Cons Of The Infinity Scalper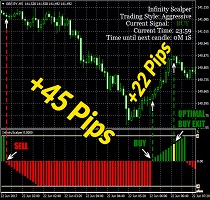 The Things We Liked
It's Relatively Easy to Use
The Infinity Scalper comes with a user guide, so you don't have to worry if you've never used a Forex indicator tool before. The signals are clear and straightforward. You'll know exactly when to sell or buy by just the color of the indicator: red for sell and green for buy.
It Lets You Leverage Your Time
With the Infinity Scalper, you'll have more time to do other things, like spending time with your loved ones or have mini vacations. You don't have to monitor the market 24/7 because it will immediately call your attention through push notifications, email, on-screen notification sounds, so you don't miss a new signal.
It Makes Your Life Easier
The Infinity Scalper will do all the mundane and time-consuming tasks of Forex trading, while committing less human-induced errors.
Don't get us wrong; we still suggest you study and master charts and trend patterns, and understand the market. However, if you want to learn while making a profit, this might help you do that.
It Seems to Work
If we're going to base it on the testimonials on the website and different forums online, The Infinity Scalper seems to work as promised. Some of the traders made anywhere between 40 and 100 pips within 48 hours, and most of them seem to be satisfied with their results and the features of this indicator tool.
There's a Full Refund Guarantee
You can use this indicator tool for two months or less. If you're not happy with it, you can email Karl Dittmann's customer support team within two months after your purchase to ask for a full refund…
Potential Drawbacks
It's Costly
The last time we checked Karl lowered the price for this indicator tool. However, it is may still be expensive for some, especially for those who are not yet earning from Forex trading.
It's Not a Get-Rich-Quick Tool
We wish it is, but it is not. It won't make your earnings skyrocket overnight. It's just going to make it easier for you to monitor and make the best decisions, so you can make at least around 40 pips within 48 hours.
The User Manual Is Available Only as an eBook
To use the Infinity Scalper indicator tool, you need a computer, reliable internet connection, and MT4 platform. In addition, it is important to mention that the user manual is available only in a digital format, so nothing will be shipped to you.
if you don't like eBooks, you can simply print the user manual yourself…

Conclusions And Final Thoughts
Opinions vary on the existence of a reliable and effective indicator tool. Some say it's useless, while others swear by its usefulness. The only way to prove that is to seek the help of more experienced forex traders. Or, if you have extra money, you can use an indicator tool, such as the Infinity Scalper, to see how it works for you.
We personally believe that the Infinity Scalper has several good features. For instance, it's easy to understand and use. Some say it's accurate and timely, and it's less likely you'll miss a good trade with the help of its notification methods (email, push notification, and sound alert) and buy-and-sell signals (green and red bars).
Sure, it also has its downsides, so keep your expectations within reasonable levels. Don't forget that you must have at least basic knowledge of MT4 (MetaTrader) trading platform and industry jargons to maximize your earning potential using this tool. In addition, some say that it repaints, although Karl Dittmann claims the Infinity Scalper produces "highly authentic" signals.
Overall, if you are looking for a "get-rich-quick tool", if you're not serious about Forex trading, or if you're not willing to spend more than $50 for an indicator tool, then the Infinity Scalper might not be for you.
On the other hand, if you're a newbie or a more experienced Forex trader that is serious about this business, if you want to make your decision process easier, or if you simply want to have more confidence in trading, then the Infinity Scalper is a great option.
Moreover, with Karl Dittmann's 60-day money back guarantee, you can easily give this indicator tool a try with a minimal risk…
Well, that's it for this review of the Infinity Scalper. We hope this was informative and helped you decide on whether to purchase it or not. If you already tried this, we would like to hear your feedback.
We wish you all the best 🙂