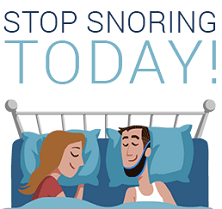 Hi friend and welcome!
Below you'll find our full review of the anti-snoring jaw supporter by Stop Snoring Today.
As always, we will start out with a general overview of this jaw supporter, continue with explanations about its main positives and negatives, and in the final section sum up everything that we believe will help you decide if it is really the right snoring solution for you.
In case you have any additional question about the Stop Snoring Today jaw supporter, feel free to contact us and we will try to help…
Now, let's start 🙂

General Overview Of The Stop Snoring Today Jaw Supporter

Quick Summary
Name: Stop Snoring Today Jaw Supporter
Manufacturer: Stop Snoring Today
Kind Of Product: Anti-Snoring Jaw Supporter
Refund Guarantee: 30 days refund policy
Official Site: stopsnoring.today
Our Overall Rating: 4.2/5
We all know someone that snores; in fact, we may be one of the culprits. Snoring affects millions of people of all ages and sexes, and it can get worse with age.
Though we equate snoring with a lack of sleep, it can lead to other serious problems such as chronic fatigue, heart failure, stroke, and high blood pressure. Instead of getting mad at yourself or a loved one for snoring, why not get help?
The Internet is filled with complicated nasal devices that are touted to help stop snoring, but most of them don't work. In fact, some of these quick fixes have made snoring worse for many people.
Jaw supporters are the latest inventions by medical professionals to help stop snoring, and the jaw supporter that we will be taking a look at is manufactured by "Stop Snoring Today"…
How The Jaw Supporter Works
When you're asleep, your muscles become relaxed, however, this can create a number of problems for the chronic snorer. It has been clinically proven that nearly 80% of people that snore keep their mouths open while they sleep, and that can contribute to loud snoring.
Snoring is attributed to the fact that the muscles that surround your upper airways, as well as your tongue, will relax during sleep, and this can lead to serious snoring.
The jaw supporter is meant to be worn outside on your face and it serves to keep your mouth in a closed position while you sleep.
The Stop Snoring Today jaw strap keeps your jaw forward and in place, also preventing your tongue from falling to the back of your throat. The strap continues to help by preventing the relaxation of the muscles near your airways, thus putting an end to your snoring.
It is also important to say that this supporter is easy to put on and take off without help. It is manufactured to fit everyone, and Stop Snoring Today has taken a one-size-fits-all approach to make it available to basically anyone that snores.
Fortunately, the jaw supporter also comes equipped with adjustable side straps to help give it that perfect fit…

The Main Pros And Cons Of  The Stop Snoring Today Jaw Supporter
The Things We Liked
Can Help Almost Anyone
Almost anyone that can be deemed an open mouth snorer can benefit from wearing the Stop Snoring Today jaw supporter. Since 80% of snorers sleep this way, it can appeal to a wide range of individuals suffering from the 'snoring curse'.
From our research online, most people have found the supporter helpful, and even those with dentures can freely wear it.
Compact And Convenient
The Stop Snoring Today jaw supporter is small and easy to care for. That means you can pack it with you and take it along on business trips or vacation travels.
In fact, the jaw supporter is manufactured from fully washable materials, so you can ensure it's always clean.
Safe Device
There are no severe side effects such as a pinched tongue, dry throat, aching gums, or a painful jaw with this device.
In addition, there are no risks involved with trying this jaw supporter. It is made of elastic, therefore, it will not break or harm you while you're asleep.
30-Day Money Back Guarantee
You can try out the jaw supporter, and return it within 30 days if you find that it doesn't work for you. The money-back guarantee policy offers a partial refund when you return your jaw supporter…
Potential Drawbacks
Not Cheap
When compared to other snoring remedies, the Stop Snoring Today jaw supporter is quite pricey. It costs just a bit under $100, and this may not be a price that everyone can reasonably afford.
Not For People Who Suffer From Allergies Or Sleep Apnea
People that snore, but also suffer from allergies or an infection shouldn't use a jaw supporter as it can lead to breathing difficulties, thus lowering oxygen intake.
It's also advisable that people experiencing sleep apnea don't use the supporter as they may snore due to sleep apnea, and the supporter can lead to low oxygen levels.
In addition, if you're a restless sleeper and turn a lot, your jaw supporter may slide out of position. That means its effectiveness will significantly decrease as you sleep.
You Can't Get A Complete Refund
Though the company offers a return policy, they deduct 10% on your return and don't refund the costs associated with shipping and handling. You will also have to use one of their approved carriers to make the return such as DHL, UPS, TNT or FedEx.
May Lose Some Of Its Effectiveness After A While
Over time, the jaw supporter may lose some of its effectiveness as it's manufactured from an elastic material. With repeated use, the material may become too stretched to hold the jaw in position, requiring you to purchase a new one…

Conclusions And Final Thoughts
As a serious health concern, snoring has gained widespread recognition and many medical facilities are actively searching for solutions to prevent it.
Clinical studies as far as Japan have shown that using a jaw supporter on a nightly basis can help eventually eliminate snoring and improve the quality of sleep. In fact, the jaw supporter works to train your mouth to keep closed, therefore, helping you overcome potential health problems as well as snoring.
We believe that sleep is an integral part of our survival, and without it, not only will you wake up feeling like a zombie, but end up resembling one later on. The stories of how horrible it is to sleep next to someone that snores are never ending.
Though we tend to blame the individual that snores for keeping us up at night, we often ignore that snoring is a serious medical problem. If not taken care of, it can lead to your health deteriorating and obstructive sleep apnea.
Considering these things, we personally think that the Stop Snoring Today jaw supporter is definitely worth a try if you or a loved one can't stop snoring. It is not cheap and also has some cons, but the results speak for themselves and you can find lots of positive testimonials about this anti-snoring jaw supporter online.
Moreover, from time to time the company behind the Stop Snoring Today jaw supporter offers special discounts for their product, and the last time we checked they actually offered an amazing 1+1 deal…

Other Interesting Stuff Regarding The Stop Snoring Today Jaw Supporter:
A short video explaining how this anti-snoring jaw supporter works: