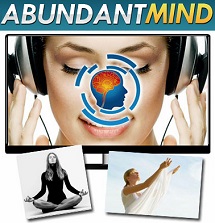 Hi friend and welcome!
Below you will find our complete review of the Abundant Mind Visualization Videos by Ty Summers.
As always, we will get started with an overview of the Abundant Mind Videos, continue with details about the main pros and cons of this video series, and in the last sentences summarize everything that we think can help you decide if Ty Summers' visualization videos are truly the right choice for you.
In case you have any additional question regarding this video course or our review, feel free to send us an email and we will try to help…
Now, let's begin 🙂

General Overview Of The Abundant Mind Visualization Videos

Quick Summary
Name: Abundant Mind Visualization Videos

Creator: Ty Summers

Format: video and audio files

Refund Guarantee: 60 days refund policy

Official Site: abundantmind.com
Our Overall Rating: 4.3/5
Visualization and the law of attraction are hardly new concepts. Their last great moment in the sunshine was around the release of the book and movie "The Secret" back in 2006, but this is a metaphysical idea that's over a century old. If you're interested in trying visualization for yourself, but haven't had success with traditional tools and techniques, the Abundant Mind Visualization Videos are worth some of your attention…
What Is It?
The Abundant Mind series is the brainchild of Ty Summers. This man was deeply interested in visualization, but found most of the conventional visualization tools available to him frustratingly ineffective. Rather than giving up on the entire idea, he began studying the human mind to see what the problem was.
Ty Summers says he came to a startlingly simple, yet important conclusion: We learn better from moving images and audible sounds than by reading words and looking at still pictures.
Armed with this insight, Ty started creating videos that served as high-tech versions of the traditional visualization boards and affirmations used for visualization. He combined high-quality video and soothing music with some effective enhancements to create a powerful multimedia experience that finally helped him start achieving his visualization goals.
Ty Summers explains that when he shared a few of his initial videos with friends and on YouTube, he found the response staggering. Thousands of people watched the videos and found them useful, and hundreds asked him if he could create customized videos for them.
In simple words, the Abundant Mind Visualization Videos is his response to this sudden surge in demand…
How Does It Work?
Each video in the Abundant Mind library starts with stimulating, thematic HD video content. This is combined with a soothing audio soundtrack with 3D spatial effects to provide a more immersive experience.
There are two features that really set the Abundant Mind Visualization Videos apart. Firstly, they also feature binaural beats in the audio tracks. In case you are not familiar with them, binaural beats are a well-known tool for "unlocking" your mind and placing it into a more receptive state. This dramatically boosts the effectiveness of the videos.
In addition, each video includes subliminal instructions in both the video and audio feeds. These instructions are framed in the third person, functioning more as hypnotic suggestions than affirmations to be repeated.
What's Included?
The Abundant Mind video library currently features more than 40 videos in six different categories:
* Prosperity And Success
* Love And Relationships
* Lifestyle Enhancement
* Special Inner Abilities
* Healing Body And Mind
* Special Mental Abilities
Buying the program grants you immediate streaming access to all of the videos. You'll also receive a pack of four bonus gifts – three books and a collection of subliminal MP3s – at no extra charge…

The Main Pros And Cons Of The Abundant Mind Visualization Videos
The Things We Liked
Advanced Production Values
Ty Summers isn't kidding about the amount of effort he's invested in polishing up these videos. They are outstanding tools that are beautiful to watch even if you're not using them as directed. (You can find some samples of the Abundant Mind videos on YouTube if you'd like a sneak peek.)
Each visualization video features high quality video and audio, and the subliminal and sub-aural features are properly integrated into each presentation.
Full-Spectrum Visualization
As noted above, Ty has pulled together all of the most effective visualization tools for evoking the law of attraction and made them work in combination to help you reach your goals. You'll experience audio, visual, subliminal, and sub-aural stimulation, all of which is tailor-made to encourage you to be more positive and open yourself to achieving your goals.
The combined effect of stimulating so many senses at once is quite powerful.
Wide Range Of Subjects
With more than 40 videos spread out into 6 diverse categories, you have ample choices to practice your daily motivational viewing. Various users have noted that some of the videos in the same category can be seen as somewhat repetitive, but this is not much of a problem.
The sheer variety of content available to you will allow you to change videos regularly to keep from falling into a rut. This wealth of content further extends the value of the Abundant Mind Visualization Videos.
Impressive Bonus Features
Besides getting access to the video library, you also get a nice pack of free bonuses when you sign up. These include three great books on meditation, manifestation, and self-development.
You also get six long-form subliminal MP3s that can help you with a range of visualization challenges. In contrast to the video library, these are downloadable files that you can use without the need for an internet connection.
Ty Summers Offers A 60-Day Money Back Guarantee
The Abundant Mind Visualization Videos come with the standard 60-day money back guarantee, which allows you to test everything without any risk…
Potential Drawbacks
Digital-Only, Online-Only
The Abundant Mind video library is available solely for online streaming. You don't have the option of downloading the videos, and Ty Summers doesn't sell physical copies of his product.
This is no problem as long as you're attached to a secure Internet connection – but what happens if you're on the road? The videos are supposed to be used once or twice a day, which is obviously problematic if you happen to be away from a reliable connection.
There's also the open long-term question of what happens if the library is ever shut down. Will Ty Summers give physical copies of the videos to paying customers? Will they cost more? Or will the videos simply vanish into the ether, leaving you stranded without the affirmation tools you've come to rely on?
Price
Even if you catch the program at its current sale price, it's a rather steep expense for access to a streaming video library. However, we must admit that we believe this is hardly a deal breaker of a drawback thanks to two important mitigating factors.
First, you are getting a really extensive collection of materials – more than 45 videos totalling over 29 hours of content, and that's not even delving into the bonus materials.
Second, as explained above, access to the program comes with a 60-day money back guarantee…

Conclusions And Final Thoughts
So, is the Abundant Mind program worth your time? Well, if you're open to the possibility of improving your life through visualization and positive thinking, it's definitely worth a closer look.
The videos that Ty Summers provides are really high quality ones, they cover a wide range of subjects, and the bonus features are very useful as well.
While it might not make an impact on skeptics or cynics, if you're receptive to the metaphysical concepts involved this could be an immensely valuable tool for self-improvement.
Moreover, considering that you can test virtually everything Ty Summers provides in this program without any real financial risk (thanks to the money-back guarantee), isn't it worth giving the Abundant Mind Visualization Videos a try?